If you've been to the Colosseum in Rome, you've seen the guys in Roman centurion uniforms dunning the tourists for a couple lire or euro in exchange for some photos. It's cheesy but I never minded - only wished they had a little bit more authentic armor.
This week the routine got exciting: a group of angry centurions occupied the Colosseum before Easter in protest at new rules removing them from archaeological areas, as part of the Soprintendenza Archeologica's
initiative to 'clean up' the area
from illegal vendors. Yesterday they escalated: centurions climbed up to the second level of the Colosseum and hung banners, demanding legalization of their work. Passing tourists cheered them on as a scuffle broke out between the cops and the reenactors.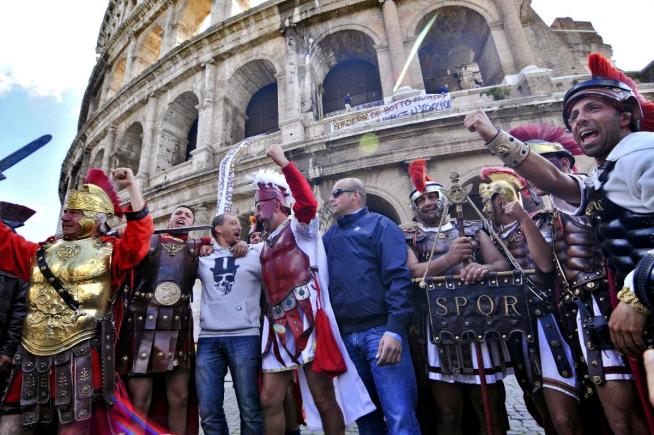 "Hey hey, ho ho, our tax free income's got to go!"
This must have been the only profession in Italy that doesn't require at least five official permits. The protesters' demands are kind of bizarre:
according to AFP
, they want to be regulated!
"Rome city hall has agreed to give a work permit to historical impersonators like centurions. But these are just promises. The last negotiation was yesterday. We still haven't received anything concrete," Sonnino said.

"We want rules, we want to pay taxes!" he added.
It's apparently a competitive job: an article in Time last year described
cops who went undercover as gladiators
but got beat down by the reenactor mafia:
Officers strapped on togas and sandals themselves to investigate the costumed combatants. When the disguised gladiator officers attempted to take pictures with tourists, the rival gladiators allegedly attacked them. That's when other undercover police, dressed as tourists and garbage collectors, swooped in to arrest the aggressors. According to the BBC, the domineering gladiators were working with five tourist agencies to control the market.
Italy is such an alternate reality sometimes.
Video of the brief cop-centurion smackdown below.
Read on for more archaeo-protests from
Egypt
,
Libya
,
Mexico
,
Greece
, and, yes,
Rome
!
Corriere della Sera has video:
-